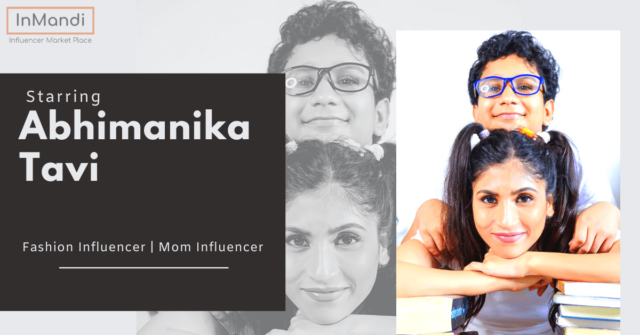 If the title Warrior Princess had a model for it, Abhimanika Tavi- mother to an 11-year-old son, fits it perfectly. There is a side to this radiant woman's life that many of us would shudder to even imagine.
Teenage is ideally the happiest and most adventurous part of a person's life however Abhimanika's was much in contrast. With her parents being divorced, the shock and bullying from her peers led her to be impaired with depression. She sought to find a safe-house in a therapist who later ended up molesting her. Closing herself down to the fear of being judged, she found solace in her books.
Fighting the dark clouds of being alone, Abhimanika became a successful student at her college and bagged a handsome job at an MNC. Mental and emotional stability had started to bloom in her life, and then she got married. Life still had to test her persistence to go on. Five years in, domestic violence and unstable livelihood led her to divorce her husband and attempt a fresh start to her life.
Abhimanika gained the customary weight post-pregnancy, followed by more bouts of depression. She struggled to create an anchored lifestyle for herself and her new born son. She became a teacher and took dance lessons, yoga lessons, Zumba lessons.
She undertook side jobs that would help her earn a few extra bucks.
She took life one day at a time and knew this wasn't the life for her. Hence, she started her journey of becoming a yoga trainer and a fitness model. She applied and tried her luck as a model, manifesting one opportunity into another. From local modelling projects and shows to now valiantly holding the title of Mrs Asia Pacific 2016, Mrs Fitness 2016 and Mrs Universe 2017, she's come a long way.
She excitedly raved about her answer at the finale of Mrs Universe 2017, when she was asked about domestic violence. She remembers framing it meticulously relating to Mahatma Gandhi's non-violence movement and leaving the spectators with misty eyes. She also showcased her dancing prowess of Andhra Natyam, which she took over from her mother, at these shows.Not just a marvel in the fitness and modelling industry, Abhimanika is an equally doting mother. Facing the societal menace of judgemental eyes and rattling mouths, being a divorcee, she made sure her son knows everything as real as it is. "Having a secure child doesn't mean hiding the bad parts, it means sharing the good and the bad together". They try to be each other's companions more than obliging to a conventional mother-child relationship.
Abhimanika, the influencer, runs an Instagram page and YouTube channel sharing her fashion, styling, fitness, lifestyle and other videos to keep the audience captivated and motivated. Through her Instagram, she not only has active conversations about divorce but also shares her two cents of wisdom with fellow women.
She believes her strength has been her ability to manifest and dream as big as she can. "No matter where you are, what you do, or how you feel, always get up and get going. Have faith in yourself and love yourself. You can get out of it, be positive and take life one day at a time "Presenting to you Abhimanika – a stunning model, a fighter, an influencer, a marvellous mother, and most importantly, a happy woman!