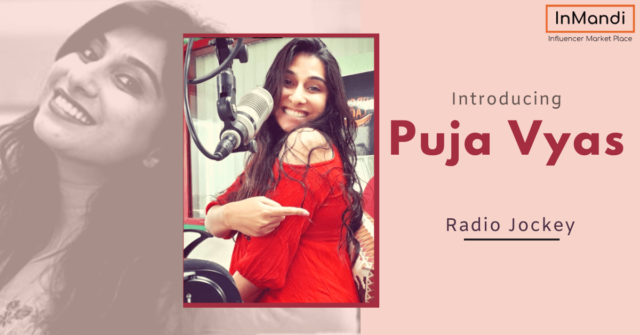 Puja Vyas is an Indian radio jockey. She has been associated with Radio Mirchi Baroda for a long time now and is one of India's most loved and popular RJs. Her Instagram account has 15.3k followers. Growing up, Puja faced bullying as she didn't fit in. As an Indian child growing up in Africa, Puja loved to dance and music. However, she was afraid of public speaking and would lose sleep over it. She never participated in school plays, but today she is known for her excellent oratory skills. As a creative person, she has always loved the stage.
She has a degree of Bachelor's in Computer Application, and has even worked at Infosys for a year or two, but didn't like her restricted life in the office. After returning to India, Puja decided to take up every opportunity that came her way, and started by participating in a beauty pageant. Speaking at the spectacle, she realized people loved her confidence. Her father came back to India and wanted to start a business, so she quit her job to help her dad. After six months of this, she decided to study event management because she loved the stage and had witnessed many events from upfront.This was when she was offered an interview for Radio Mirchi. She had no idea about what RJs did but aced every round of selection. She got selected for the job but felt guilty about leaving her dad and his business stranded. Her dad wasn't on board at first but then was proud of landing such a massive job. She had even gone for an audition for 'Roadies' with her friend. She had never watched the show or knew how it worked. She has even participated in a large-scale beauty pageant in Gujarat but dropped out at the last minute because she had a gut feeling that she should. Puja stresses the importance of always listening to one's gut feeling, and she still does it too.
Puja believes in winging it and doesn't love planning. She hates it when her plans don't work out. Therefore, she doesn't like planning. Talking about her experience as a radio jockey, she says that she has had to spend years learning from scratch and is still learning. She attended multiple workshops and training to get better at her job. According to her, the most challenging part of an RJ's job is to keep talking and make sense while talking, to keep people hooked. One of the best times of her life happened at a training workshop in Delhi, where she got to meet RJs, creative heads, writers from across India. She describes the time as full of fun and music and great people.For her, Radio Mirchi has made her more confident and has given her the power to help people. She has gotten a chance to give back. She always saw herself as a creative and confident girl, but couldn't express it. But deciding to say 'yes' to every opportunity in her life turned out great for Puja. Through a series of chance events, she has ended up where she is today. She has a dedicated fan base and is popular in all of Gujarat. She says that she was lost in life too but found her way just by trusting herself and taking chances, and gives this thought of hers to the young people today.