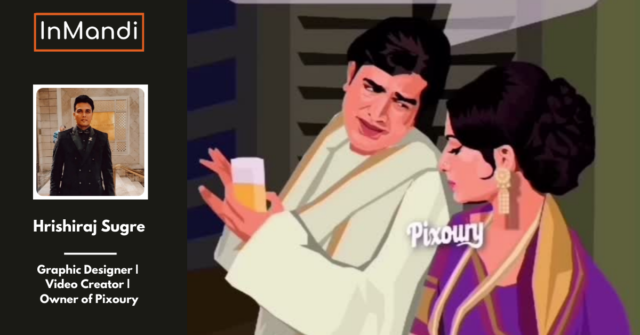 ART FEATURED:
Bollywood themed Instagram reel
ART FORM IN GENERAL:
Since Instagram reels are extremely popular these days, creators try to come up with unique innovations to catch the attention of users. Pixoury is one such account that is coming up with animations whose central theme was Bollywood.
THE ANIMATED SERIES:
Hrishiraj has been a recent internet sensation who has swoon all of us with his catchy animations based on Bollywood songs and instances. Since we all are familiar with the introduction of Instagram reels which are reaching hundreds of accounts rapidly. To stand out in this competitive social media realm, a content creator needs to bring out an interesting and attention-grabbing content. Hrishiraj totally aced this game by introducing his animated reels which were showered with immense love and support from his audience. He started creating these videos in nationwide lockdown in May. The first-ever animated reel he created was based on Javed Akhtar's poem Zinda Ho tum. This video was only created to cheer up his friends, as lockdown had led everyone to feel a bit disconnected and lonely. As he noticed that it was appreciated so much, he took over to Instagram and started creating these animated videos frequently, and in a mere period of 2-3 months that his work became viral and he started receiving love in abundance. His reels are innovative and soothing simultaneously.
BEHIND THE SCREEN:
The sole purpose of creating these videos was to spread happiness and positivity. Hrishiraj wanted his audience to feel happy and at peace while watching his videos. He gave in all to create the most soothing and extraordinary reels. He uses Bollywood underrated songs as his muse and carves his art around them. Various software and tools come into play in the creating process. The animations are catchy and are widely loved these days. It is Hrishiraj's strategy to cheer up his massive audience.
SNEAK PEEK INTO HRISHIRAJ'S LIFE:
Hrishiraj Sugre is a Pune based graphic designer who owns Pixoury media OPC Pvt ltd. He specializes in designing brand identities. And along with this, he also runs a streetwear brand called curry outfit. He always had a knack for graphic designing and he also designed a logo for his friend's startup which was a major success. After that, he landed in this niche and is now successfully running his own company. His Instagram account also gained massive popularity and there's no doubt on the fact that his account gives out a totally different vibe.
TO ALL THE TECH GEEKS:
Hrishiraj advises that you should not stop thinking that you don't have expensive devices or technology. Pen and paper are the prerequisites for creating any piece of art. According to him, devices are just required for execution. You should first concentrate on ideation and process. Later, everything will fall into place.
As we come to the end, these particular soulful lyrics keep Hrishiraj going, "Kandhe pe mera basta, chala me jahan, le chala mujhe rasta."
AVAILABLE ON:
Instagram: @pixoury