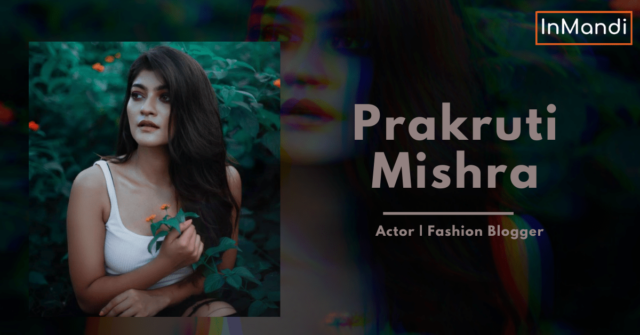 National award-winning Odia actor, Prakruti Mishra, is an inspiration to all those who dream of having an acting career. Prakruti has been an actor and been on the sets for as long as she can remember. She started working in films at the age of 2.Growing up, Prakruti spent her days on the sets of various films, as her father is a music director, and mother a playback singer, in the Odia film industry. That leads to her getting spotted on the sets by one of the film directors that her father was working with., landing her an opportunity to become a child actor, her first film Sabata Ma. Prakruti was fond of singing and dancing since childhood; she remembers the happiest memory of her where she danced and sang. Prakruti is also a trained Odissi dancer. When asked to choose between acting and dancing, Prakruti finds acting to be intrinsic to dancing, expressing her love for both equally
What she loves the most about acting is the chance it gives her to play so many roles. Acting enables Prakruti to get into a new character's shoes. In those moments, as an actor, she is able to cut off and be in the present, focusing on trying to be a different person so she can do justice to the characters.
After completing her schooling, Prakruti moved to Mumbai, where she completed her graduation from Bhavan's College and pursued her passion for acting there. Having had no godfather in the Bollywood film industry, she faced a fair share of struggles during her journey. This didn't weaken her; she moulded it as a learning curve for her to polish her skills, to be a better actor. She sends out the same message to aspiring actors, to find their forte and audition for acting roles that bring out the best roles and skills in them. Not everyone can turn into a glamorous actor overnight but working towards one's talent, and strengths are when success follows, she believes. Prakruti became an MTV finalist for show Ace of Space; she was encouraged by Vikas Gupta after she cleared the auditions. Having spent 75 days inside the small set of small rooms with various people, and being cut-off from the outside world was an all-embracing learning experience for her.Prakruti won her first National Award at 25 for Hello RC. The movie itself bagged three awards and looking back on it, Prakruti feels humbled and inspired. She looks up to Priyanka Chopra as her actor inspiration, while the dancer in her admires Hrithik and Madhuri's dance moves. Prakruti is very excited about her upcoming film Prachand. Belonging to the thriller and murder mystery genre, Prachand casts three more Odia actors apart from her, and in this, her fans can see her in anew avatar. She is herself fond of watching horror films and finds movies such as Gangs of Wasseypur, 1920, Jajantaram Mamantaram and I love you, an Odia film her all-time favourites.
Prakruti also enjoys playing badminton and is a self-proclaimed fitness freak. She loves her fans and loves being recognised by them at malls or when she steps out. It makes her feel happy about the work that she has been doing. She particularly remembers being sent food on the set by one of her fans while shooting for a film near the mountains in Odisha. She found the gesture very heartwarming.
When her family has time to spare, they get together occasionally. She has always found support from them that has also enabled her to reach where she is today. Given a choice, she doesn't know what she might have taken up had it not been a career in acting, but the quarantine had her even consider farming as an alternative career.
Young and resilient, Prakruti has made her mark at a very early age and looks forward to working on more exciting projects in the future that allows her to expand her horizons.