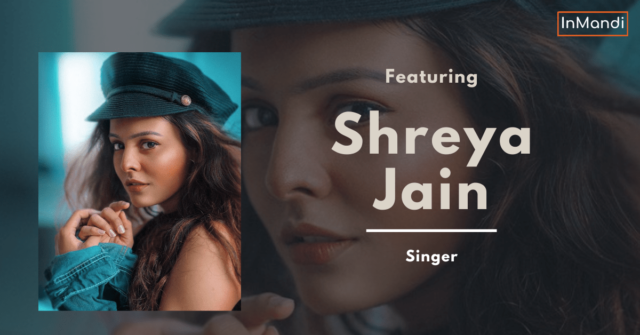 Hailing from Nagpur, Singer-songwriter Shreya Jain (@shreyajainmusic) is a force to be reckoned with. Having already established herself on YouTube, and gaining a loyal audience of over 488,000 subscribers, Jain is all set to take on the music world by storm as an independent artist.
Her family has always been musically inclined – Her father and sister are both professional Indian classical singers. Surprisingly, she didn't always want the same future for herself. She says, "I've been singing since I was 5, but I never thought it would end up being my passion. My dad would have to force me to sit for Riyaz (Indian term used for music practice)."
Shreya started doing shows after 10th grade, and soon realised that music makes her the happiest. She decided she did not want to study, instead she wanted to go to Mumbai to learn music production. However, her family did not permit her as they felt she was "too young". While she was skipping a year from college, she worked with a friend and put out her first video on YouTube, which got over 10,000 views in the first 24 hours. "I realised I can do this often!" she says.
During her compulsory internship for her college, Shreya realised music is something she could not live without. Every weekend was spent travelling back and forth between Pune and Nagpur to create content for her YouTube channel.
She worked hard to create content, and the results showed. Within a span of 10 months, her subscriber count went from 30 thousand to 30 lakhs. During this period, she also put out what is now her most viewed video, a cover of Jo Tu na Mila, that currently has over 15 million views on YouTube.
Shreya recalls that the day after her last examination, she travelled to Mumbai. Shortly after, she signed with the label Springboard Records, as they support independent artists like herself. She now alternates putting out her music on her own YouTube channel, and the label's.
Shreya has put out over 10 videos since the pandemic started in 2020, yet she says it has been a challenge to put out content. "My parents weren't allowing me to go out. So, I'd record 3 videos at a time! I never thought I could accomplish something like this in the lockdown, but I did, and I'm really proud of myself and my team."
Shreya Jain's team consists of Music producer Pranshu Jha (@pranshumusic), Photographer Sagar Tripathi (@fotilo_feller), and Photographer Ray Mudafare (@vitae_preno).
Shreya Jain has now put out her original song, "Pasbaan", a song about one-sided love. The music video, on the Springboard Records YouTube channel, already has over 79,000 views.
In Shreya's advice to budding singers, she emphasises the need to do Riyaz, "I think your foundations in music should be good. If you do Riyaz every day, then it helps you learn more vocal techniques and make you music sound more professional." She also finds social media a powerful medium for independent artists to help their music reach their audience. "And if you're feeling nervous about posting, just do it, and then don't stop! Keep doing it, and you'll only get better with time."