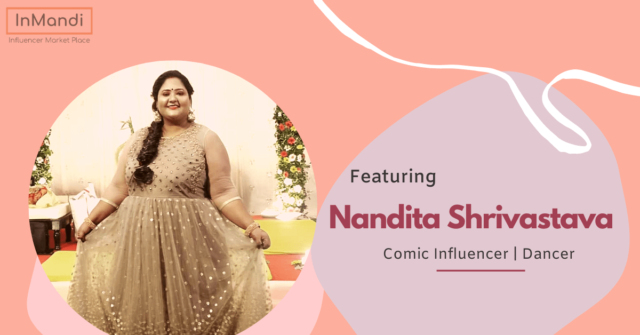 Kuch Toh Log Kahenge, Logon ka Kaam hai kehna", the heart-warming song by the legendary Kishore Kumar is what influencer Nandita swears to live her life by.
"You've got to do what you have to do, there's no choice", the 34-year old says. Nandita is a quirky and vividly colorful individual from Jharkhand, India who was once a glorified TikTok-er hitting a million followers on the now-banned app.
Having been raised in a rural background, Nandita had her share of customary struggles with the traditional conservative values that come along with it. Growing up she wanted to go beyond the set rustic boundaries her family had for her and remembered taking her first bold steps towards combating stage fright, at the age of just 4, with her dance performance. "I won it too", she proudly gushes. Ever since then she has wanted to embrace the dramatic heroine in her, and she points out, "Ek chhoti si heroine toh sab mein hoti hai"
Married at the age of 22 and welcoming a child a year after, she had her share of post-pregnancy weight gain, body image issues and depression, a universal problem faced by innumerable women. She feels blessed to be with a man who has encouraged her to spread her wings and follow her dreams unabashedly. To date, she reveals, he ensures she keeps creating and publishing content regularly to keep her on her toes and at her creative best!
Body shaming and name-calling is something she has had to deal with for a prolonged period. However, that's refrained from dampening her dreams and she's taken it in her stride and made that her strength. The day she embraced self-acceptance was the turning point of her life and she now continues to look beyond her body type and simply sharpen her talent. "I believe I was the most unique contestant of "Dance India Dance Super Moms" as I was welcomed with loud cheer and whistles to the stage, and even got this remarkable opportunity to dance with Bollywood actor Govinda."
She is fascinated with the art of dressing up and mimicking people, hence, focuses much of her content by aping to perfection the iconic Indian television character "Kokila Ben" from the TV show Saath Nibhana Saathiya. "I'm just painting the strict TV character with my humour and wit and presenting it to my audience which makes me happy to give them something to laugh about. I choose to act like Kokila in most of my videos as I feel I have a striking resemblance to her."
What makes her content stand out are her funny acts like sliding down the stairs, which she recalls as an act of her childhood when she was too lazy to climb down. She indulges her quirk further with props like a hula-hoop or a children's bike, to keep adding a slice of comedy in each video.
On receiving flak and trolls from the internet where they mock her content, Nandita resorts to delightfully making a duet video as a response to such creators, either laughing along with them or giving them a piece of her effortless wit.
Her amassed fame and reach in TikTok got her innumerable brands wanting to collaborate with them and that got her the opportunity to work with brands like Work-India, VMate and Bigo.
She does feel pained with the TikTok ban where she gained so much popularity from, however, she is flooded with offers from various new platforms but chooses to be wise and picky about it. She is seeking to grow on Instagram, along with having a mass reach on YouTube. "I Know I'll get there soon as my fans reach out to me each day pouring in so much support, it's so overwhelming and I'm touched by their response".
She signs off with encouraging upcoming influencers to continue to dream big and have faith in themselves.
A lesson to learn: How Nandita gives it back
She enthusiastically mentions of this one time when on the stairs of a movie hall, a stranger walking beside exclaimed "it's difficult for us 'normal' people to climb these stairs, I can understand how bad it could be for you"
She could have been sarcastic or negative, she smiled and politely asked that man to go look for Kokila Ben spoofs and her dance videos on the internet, to which the man was taken aback that someone like "her" could dance as well. Leaving him in awe, she gracefully went up the stairs, as she does in her life now.