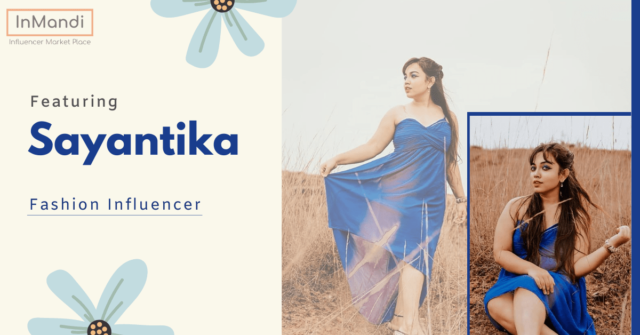 Sayantika, this powerhouse of talent and beauty belongs from Kalyani, West Bengal. A fashion and beauty blogger, Sayantika loved being in the limelight ever since she was a kid.
She would act in school plays and endlessly ask her dad to click her pictures. Dressing up and styling being some of her favourite pastimes, at 13, she started writing blogs on fashion. Sayantika feels that her blog is her safe haven, her 'digital diary'. She's an extrovert but values her solitude equally to the extent that she would sit in the church or travel to places to peacefully write her blogs.
In 2013, when Instagram was just budding, so was Sayantika and her involvement in fashion. One prominent incident, Sayantika remembers sharing a picture, and her headmistress called her father up questioning her "modesty". Fashion blogging was hence a very niche and new concept to enter into.
Initially, she would use simple clothes like leggings and wrap-around skirts to create looks. The philosophy of Beg-Borrow-Steal helped her majorly during her early days when branded apparel was a dream untouched. She looked up to fashion blogger Kritika Khurrana because of her ability to create looks from anything and everything.
With her father's ceaseless encouragement, Sayantika kept steadily growing. At 20, she has now garnered a following of over 58K on Instagram! She's also faced the termites of social media, the trolls and people who pull her down. Expressing concern, the young mind says, "Trolls and the society demean you assuming it's appropriate and forget about the consequences of their words. I've learned to turn a blind eye."
Over the past four years, Lakme was one of her first brand collaborations followed by multiple cosmetic brands like Himalaya, Sugar, MCaffeine etc. She was featured in the Vogue Magazine in 2018. Sayantika was also amongst the top 20 contestants in the Miss Bengal 2018 pageant. She's been part of official Instagram invite-only events and programs as recognition for the work she's done.
It was especially momentous for her when she was invited to her school to talk about fashion blogging as a career option. Sayantika does want to be someone who has an impact on society, who other young girls can look up to.
She lives on her father's philosophy of having 'A Burning Heart, A Pair of Wings and No Regrets'. As many daughters do, she shares a special bond with her father! He has been her Superhero, she says. From receiving a DSLR that her father gifted her to the time she presented her father an Apple Watch on his 35th birthday in 2019, she surely has climbed up big time.Achieving this much at an early age was surely not easy, Sayantika still believes she lacks planning and confidence to take the leap! Hence to others, she offers her own learning, "Always have a plan, and if you're crazy enough to believe it, you're crazy enough to do it! If the doors are closed, make your own door."