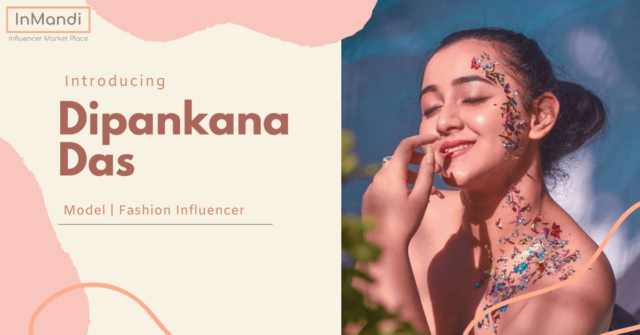 A young, demure, and humble, 18-year-old Dipankana belongs from Kalyani, a town near Kolkata, India. Owing to her ethnic Indian roots she would always lose her heart to dancing. She was exceedingly active in part-taking in school events and performing arts competitions.
Dipankana has been tip-tapping her way into life since the age of 3, and now is professionally trained in dance forms like Kathak, Bharatanatyam and contemporary. She comes from a background of engineers, naturally, her parents expected her to go for Science as her stream of education, so she's chosen Biology.
Initially, she shared dance videos on her Instagram but soon after she derived inspiration from Manushi Chillar, the time she recalls watching her win Femina Miss India 2017 and Miss World were significant moments for her.
They sowed in her the seed of interest in modelling and fashion. She attempted to pursue it by sharing posts donning a Bengali saree where she got the highest engagement that she had ever received. This was the defining moment when she realised this is her path to making her headway into becoming a fashion influencer.
She invariably had trouble convincing her father, even though he did not stop her from what she wanted to pursue, he always expressed concern. One such moment showed up in 2018 when she wished to participate in two local beauty pageants, Fashionista 2018 where she managed to win and become a runner-up in Fashion Fiesta 2018, amongst a group of strikingly talented participants. She proudly exclaims that the judges were remarkably mesmerised by her talent. It took a lot of convincing on her part to be a part of this show.
This act of repeated convincing stopped gradually once she started receiving recognition for her work in the form of brand endorsements and collaborations.
She still finds it difficult to strike a balance between her education and her interests, regardless, she is also of the view that education is of equal importance.
That has led her to flourishingly harmonise her studies and her passion at such a young age. Her followers and witnesses of her talent can unquestionably voice the fact that she is doing an amazing job at it. She exudes utter grace and confidence and holds herself true to her roots by sharing content based upon her Bengali culture. She also exhibits western fashion with poise. Her content and exceptional enthusiasm towards what she does has secured her a fan-following of over 35K on her Instagram.
Dipankana plans to pursue her MBBS in the coming years and simultaneously intends to participate in beauty pageants like Miss India and Campus Princess, manifesting her dream of marking her name in the modelling and fashion industry.
The Bengali diva offers her two cents by asking aspiring creators to discover what they love and work towards making themselves the best in it, by being true to themselves and so, they will always find their way!