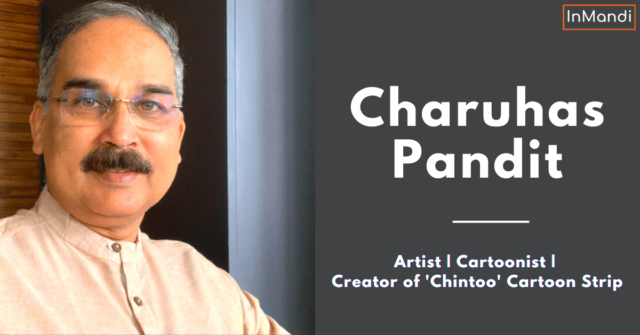 Charuhas Pandit always loved reading books, especially those in Marathi and comics like Mandrake, Phantom, Amar Chitra Katha. The authors greatly inspired him. His inherent love for arts made him join Arts college. The best part was the support of his family in the decision. They never pressured him to become a doctor or engineer.
In art college, he did commercial Arts where he was taught how to make ads, brochures, and everything related to publicity material, designing, and drawing. He used to do a part-time job in an Ad Agency during college. He always loved cartoons and persuade his love even in college. Soon after the college he started his own ad agency with his wife Bhagyashree, since she was also an artist
He started doing general cartoons for newspaper articles, magazines, illustrations, book covers beside his general advertisement agency work. There was a thought that often irked him: why do we have foreign character cartoons in India's all English newspapers , and the vernacular newspapers even did not have that? It pushed him to create some Indian cartoon characters that the readers would enjoy. This was when he met Prabhakar Wadekar, and both started the "Chintoo" cartoon character. Prabhakar was a copywriter, but he had the same interests as Charuhas Pandit. They planned to make something different in the form of comics and cartoons. This made them start with the newspapers to strike a balance with some unpleasant and disheartening news in it. Also, it is something that both kids and older people love.
Initially, they approached Sakal newspaper in 1991 to publish their cartoons and received a good response from people. This continued till 2001.From 2001 to 2004 Chintoo was in Daily loksatta. From 2004 to 2013 , till the unfortunate demise of Prabhakar Wadekar, Chintoo was again with Sakal.
Later Charuhas Pandit started a Chintoo Facebook Page for the famous cartoon character and realized that he had more freedom than the newspaper postings. There were 2 movies and 36 books published on Chintoo, with many copies being successfully sold. Similarly, his Instagram page also received a good response, after which he started a Youtube channel with 40 small animation clips that got lakhs of views.
The Greatest Achievement
Being loved by large masses of people and getting compliments from parents that kids started learning Marathi because of the Chintoo comics on newspapers was a massive achievement for Charuhas Pandit. Chintoo even had a Sanskrit translation, and the Mumbai University's Department of German published 2-3 books with various cartoon scripts of Chintoo.
Pandit's inspiration
Pandit's Chintoo comic never gave any preachy message; rather, it subtly conveyed messages. His stories were inspired by the incidents in middle-class society in India, representing various characters with clarity. When he was being invited to the deaf and dumb school, he was glad to see enacting done by blind school's students. Deaf and dumb school students draw various Chintoo strips by their imagination.
Even the students in a blind school were keen to hear the Chintoo post in the newspaper before anything else.
Qualities Needed for Comic Writing
Pandit felt that having a keen observation power and a positive attitude towards life were essential characteristics for writing a good comic. He was able to twist the generic incidents and presented them to the audience in an interesting way.
A shift in focus to a different kind of Art
Along with a long journey with Chintoo's character, Pandit and his wife started implementing laser technology on wood which was a whole new concept. They used various types of wood as a pallet, cut them with laser, and then pasted them for creating beautiful pictures. This, too, received a great response from the Indians and foreigners. Their products started to sell in reputed stores like Bombay Store and various shops in Mumbai, Banglore, Hyderabad International and Domestic airports.These became a perfect corporate gifting choice. It was named Srujan art and now has an Instagram and Facebook page also for the same.
Struggle in the path of achievement
Charuhas Pandit always pursued what he loved, which never made him feel that he had to struggle. Though there were some ups and downs, he managed to remain positive, implement all that he studied in marketing and advertising, and implemented the feedback from people to win their hearts. Even during the lockdown, he worked to develop new products.
Keep upgrading
In his journey so far, Pandit revealed how following one's passion is important and trying to excel in it. He feels that if a person keeps upgrading himself and tries to come up with new ideas and think out of the box, success would surely follow.